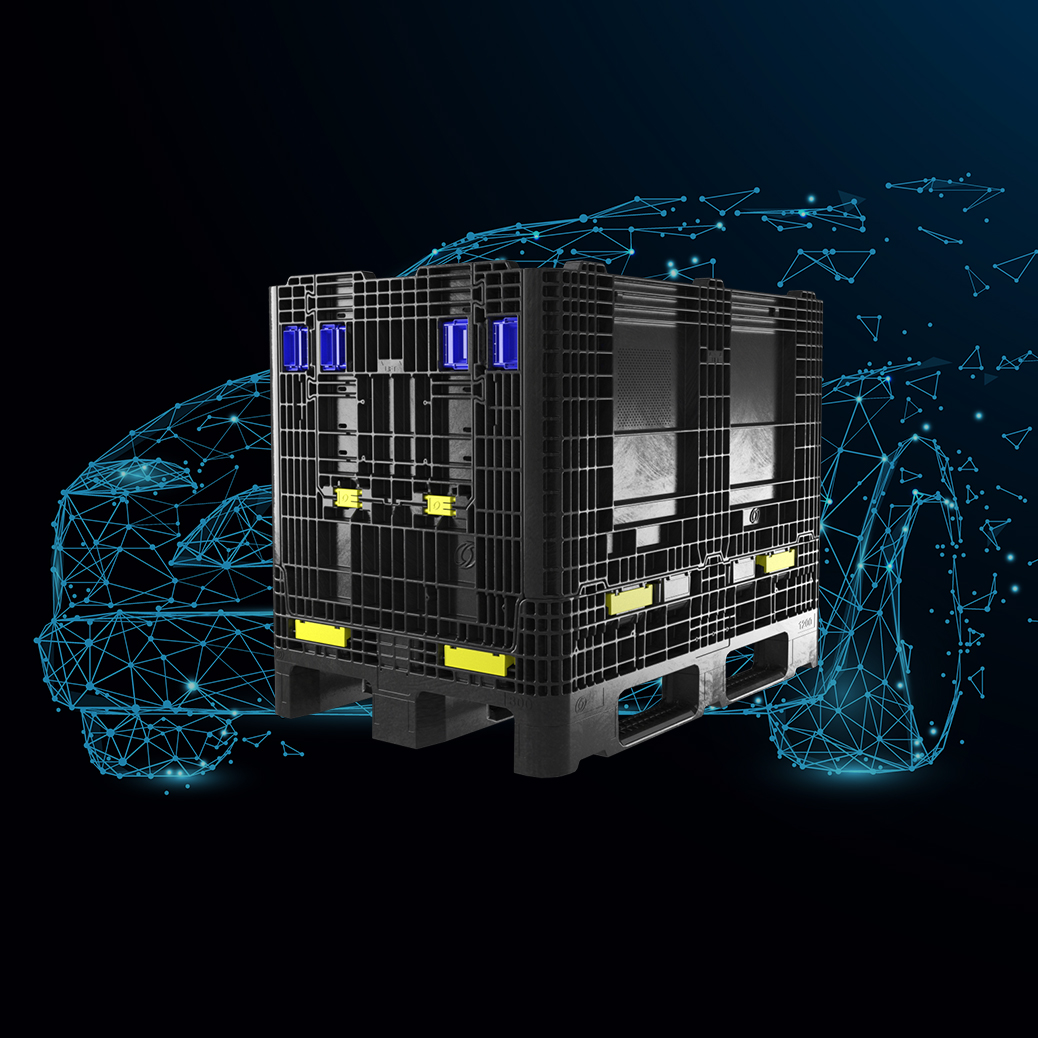 15 Apr

GitterPak®
Collapsible Plastic Pallet Box
GitterPak® – Plastic Gitterbox 1200 x 800

INNOVATIVE

DURABLE

SUSTAINABLE
900 kg weight capacity
Stackable 1 + 5 static / 1 + 2 dynamic
Return ratio 1 : 2,7
Available with 0-4 doors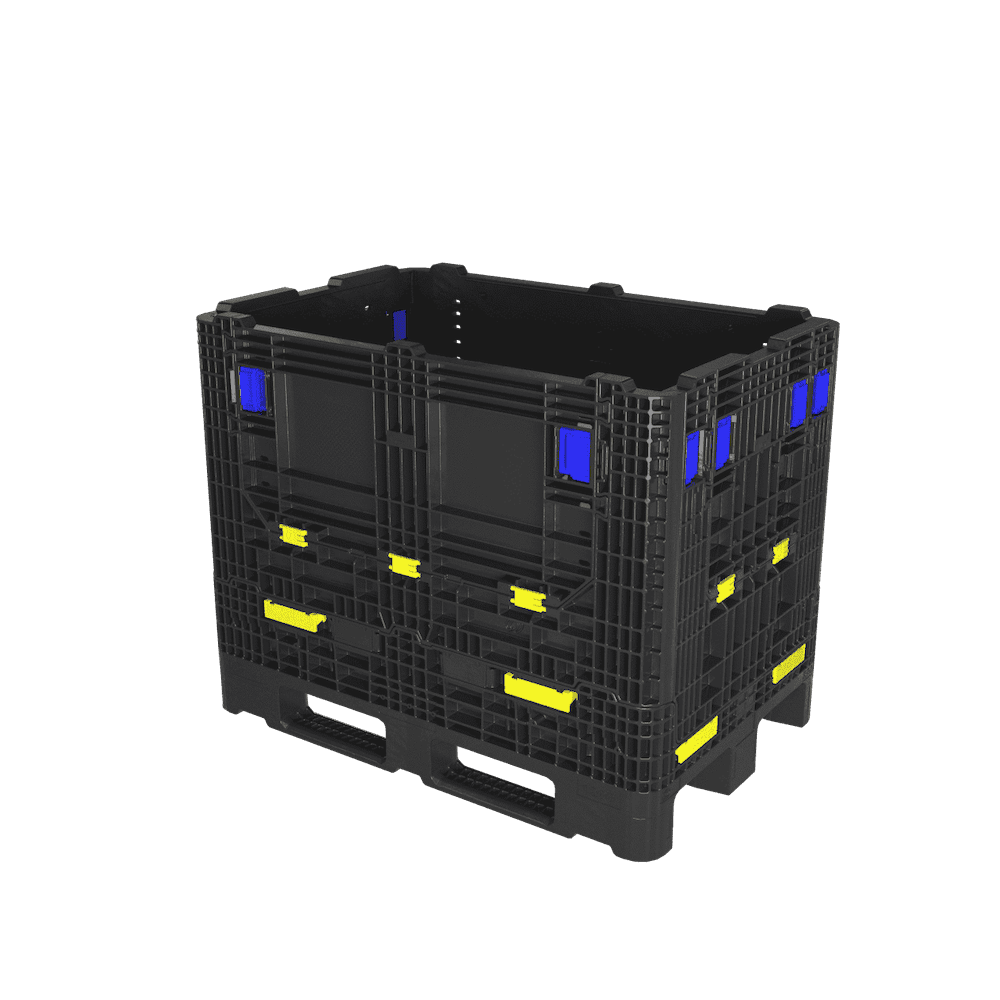 GitterPak Plastic Gitterbox 360° View

Collapsible Pallet Boxes: The Sustainable Alternative to Steel
Our collapsible plastic pallet box GitterPak® is part of the BulkPak® line. The plastic pallet box with lid is used in automotive and industrial applications and holds up to 900 kg. Designed to European dimensions and produced in Europe, the GitterPak® with a 1200 x 800 footprint is a reliable 1 to 1 substitute for metal gitterboxes, metal tubs and wooden crates. It is a plastic gitterbox. Compared to steel crates, collapsible pallet boxes offer low maintenance costs, increased product protection, transport efficiency and workplace safety across the entire supply chain. Our folding plastic pallet boxes do not rust and prevent metal-on-metal part damage with an all-plastic design. The three-runner base efficiently fits into racking or automation systems with a secure two-snap engagement for secure runner-to-base-connection.
Stackable, folding plastic pallet boxes– with 900 kg weight capacity

ORBIS collapsible plastic pallet boxes offer transport efficiency with a return ratio of 1:2,7. When folded, one truck load holds 264 folded, empty containers compared to 78 fully-assembled boxes. Due to the unique design of the side walls, our folding pallet boxes are particularly robust and allow for secure stacking: 1 + 5 static and 1 + 2 dynamic. The ORBIS GitterPak is manufactured from 100% recyclable materials. At the end of the service life, we offer to buy back obsolete plastic packaging and put the raw materials to use for new packaging production. The GitterPak is a sustainable, cost-efficient and space-saving alternative to conventional steel packaging.
Advantages and Added Value of ORBIS GitterPak®

900 kg weight capacity

Stackable 1 + 5 static / 1 + 2 dynamic

1 : 2,7 fold-down ratio

Decreased product damage, no rust

Robust with long service life

Sustainable: reusable, recyclable

Reduced costs for storage and transport

Improved workplace safety
ORBIS Folding Plastic Pallet Boxes in Detail
Only three different kinds of spare parts for easy and quick maintenance on site – without special tooling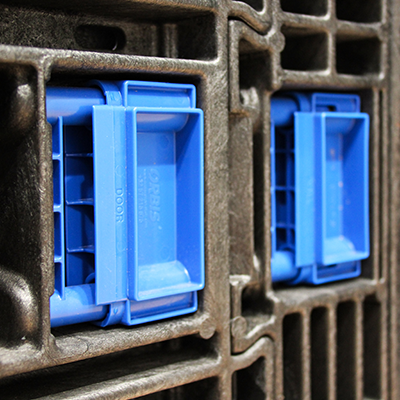 Latches for side walls and doors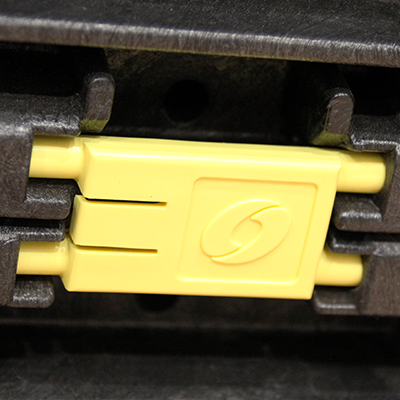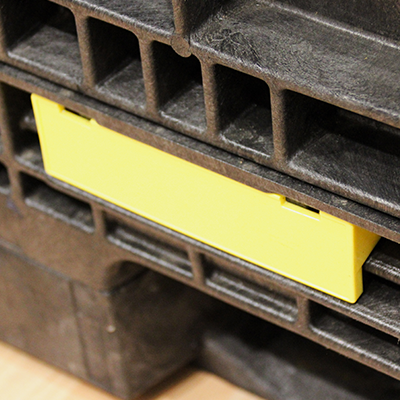 Connectors for exchangeable side walls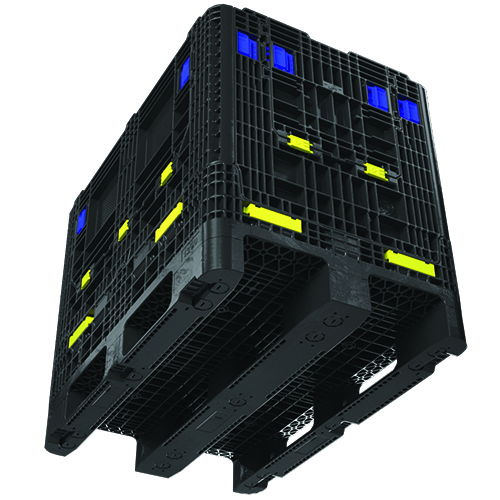 Robust runners for easy handling

Where to use a plastic gitterbox
Collapsible Plastic Pallet Boxes are suitable for:
Plastic Pallet Boxes for the Automotive Industry
ORBIS Europe supports leading automotive manufacturers and suppliers with collapsible plastic pallet boxes during vehicle launches and part logistics. The ORBIS GitterPak substitutes metal shipping boxes and is therefore a perfect fit for automotive supply chains. The plastic gitterbox helps improve product flow and reduce costs.
Plastic Pallet Boxes for Industrial Manufacturing
ORBIS offers comprehensive packaging solutions that maximize product flow efficiency in the industrial manufacturing environment. The ORBIS GitterPak  is a sustainable and efficient alternative to metal and wood crates used in industrial manufacturing. The collapsible pallet box is robust and holds even large and heavy industrial components.
ORBIS GitterPak® – Product Specifications
| | |
| --- | --- |
| Model | HDB1208-960 |
| Outside Dimensions (L x W x H) | 1200 x 800 x 960 |
| Inside Dimensions (L x W x H) | 1120 x 720 x 805 |
| Product Clearance | 776 |
| Collapsed Height | 354 |
| Container Capacity (kg) | 900 |
| Weight (kg) | 65 |
| | |
| --- | --- |
| Model | HDB1208-960 |
| Megatrailer Capacities (max.) | |
| Collapsed | 272 |
| Assembled | 102 |
| 40' Container Capacities (max.) | |
| Collapsed | 175 |
| Assembled | 50 |
Request an individual quote
Sales Team Europe

   +49 2233 619 2072


   europe@orbiscorporation.com
If you need additional information on our products
or would like to request a quote,
we are happy to help.
Are you looking for collapsible plastic pallet boxes in other sizes?
Frequently Asked Questions About Large Plastic Pallet Boxes
What is a collapsible pallet box / foldable large container (FLC)?
FLC is short for foldable large container. In logistics, FLCs are the counterparts to KLTs, which are a small load carriers used in many industries. Foldable large containers, also called collapsible pallet boxes, are made of plastics and used to transport and store heavy-duty large components. That includes steel-frame gitterboxes, FLCs for the automotive industry and other folding pallet boxes. All-plastic foldable large containers feature a light tare weight compared to metal bins, so trucks will efficiently cube out before weighing out. At the same time, collapsible plastic pallet boxes offer stability, a high weight capacity and a collapsible design. Plastic pallet boxes with lid can be used in different industries. They are especially suitable to transport automotive and industrial components. Our collapsible pallet boxes combine stability and durability with increased sustainability and efficiency.
How can the GitterPak plastic pallet box substitute metal gitterboxes?
One of the most used steel packaging solutions are metal pallet cages that consist of a steel frame construction. ORBIS Europe offers a collapsible plastic pallet box that replaces gitterboxes 1 to 1 and brings considerable advantages such as cost savings to the supply chain. Both shipping boxes are based on the European standard footprint 1200 x 800 mm and offer high weight capacities. They are returnable, have a long service life and are compatible with other load carriers that feature European footprints. Plastic gitterboxes with cover and closed walls ensure comprehensive product protection. Compared to metal boxes, the GitterPak is collapsible when empty. With a return ratio of 1:2,7, the plastic gitterbox optimises space utilisation in truck, container and warehouse.
How do you handle the GitterPak 1200 x 800 pallet box?
Like all ORBIS plastic pallet boxes, the GitterPak offers user-friendly handling and maintenance. The GitterPak is available with one, two, three, four or without access doors which leads to easy accessibility. Even when stacked, operators can easily access the packaged goods. ORBIS uses a special manufacturing process to manufacture its plastic pallet boxes such as the GitterPak. Due to this process, our folding plastic pallet boxes are extremely robust and durable. The GitterPak protects components from damages that can occur from rust, moisture, mould and abrasion in metal pallet cages. Added to that, all spare parts can easily be replaced with original parts without the need for special tooling. The collapsible plastic pallet box with lid securely holds and protects product loads.