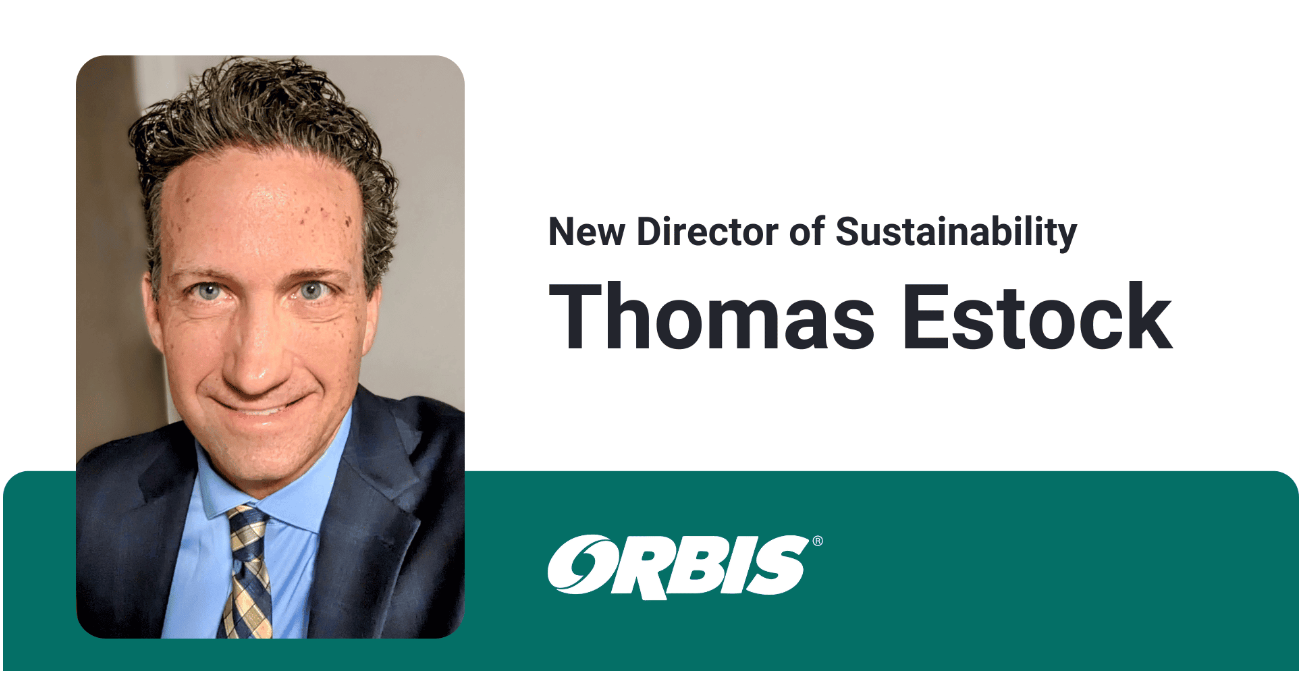 11 May

ORBIS Corporation Welcomes Thomas Estock As Director Of Sustainability
ORBIS Corporation welcomes Thomas Estock as Director of Sustainability 
Strengthening ORBIS' global sustainability efforts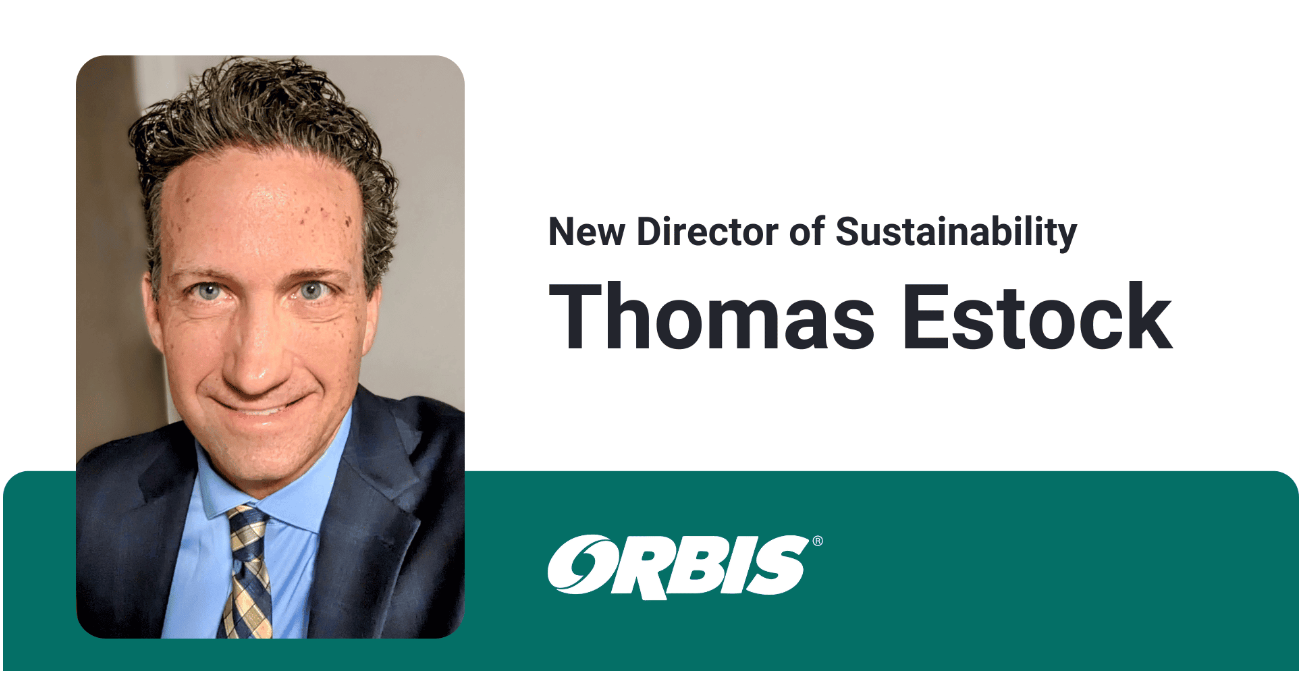 At ORBIS, we understand the importance of reducing waste and minimising the use of resources in our customers' and our own operations. That is why ORBIS® Corporation has appointed Thomas Estock as its new Director of Sustainability. The position will focus on furthering sustainability efforts throughout the company, while helping customers improve their sustainability performance and meet their ESG goals with reusable packaging. "I am excited to join ORBIS and lead the company's programs and initiatives to achieve and exceed our sustainability goals," Estock said. "ORBIS has a strong commitment to sustainability, which is ingrained in our culture, and I look forward to collaborating with the executive team and cross-functional stakeholders to develop and implement programs, protocols and strategies that will benefit the environment, our communities, our customers and our employees."
As a steward of sustainability, ORBIS is committed to minimising environmental impacts while creating holistic value for stakeholders through reusability, green product design, and optimisation of own operations and material usage. ORBIS provides reusable packaging solutions that drive a circular economy while maintaining the highest levels of product protection and performance.
Reinforcing ORBIS' leadership in sustainable business practices
"We are thrilled to have Thomas join our team as director of sustainability," said Norm Kukuk, president at ORBIS Corporation. "His extensive experience in environmental, health, safety and sustainability management will be invaluable in helping ORBIS achieve and exceed its sustainability objectives and reinforce our leadership in sustainable business practices."
Estock joins ORBIS with three decades of broad and diverse experience in industrial, environmental, health, safety and sustainability management. He will be responsible for developing, implementing, maintaining and identifying continuous improvement opportunities of ORBIS' environmental, social and governance programs and strategies, while supporting ORBIS and its stakeholders to achieve their sustainability objectives and goals. Estock will also work closely with internal stakeholders to identify, establish and track key performance indicator data to help support our customers with sustainability reporting (e.g., Global Reporting Initiative, Carbon Disclosure Project, EcoVadis, etc.) and Menasha Corporation's "30 by 30" goal. This enterprise-wide goal includes reducing water usage by 10%, landfill waste by 10% and total emissions by 10% per production ton, by 2030.
Sustainability at ORBIS Europe
Every day, we help our customers reduce their overall environmental impact by shifting from steel, wood or one-way packaging to returnable plastic packaging solutions. To improve sustainability and efficiency, we design customised solutions to solve supply chain challenges and execute a reusable packaging program for long-term cost savings and sustainability. By design, plastic FLCs and pallets are robust and reusable over the course of their service life. Eventually, we offer to buyback obsolete containers at end of life.Fostering a circular economy approach, the plastic raw materials can be recovered, recycled and reprocessed into new useful packaging products. That prevents the plastics from entering the solid waste stream and harming the environment.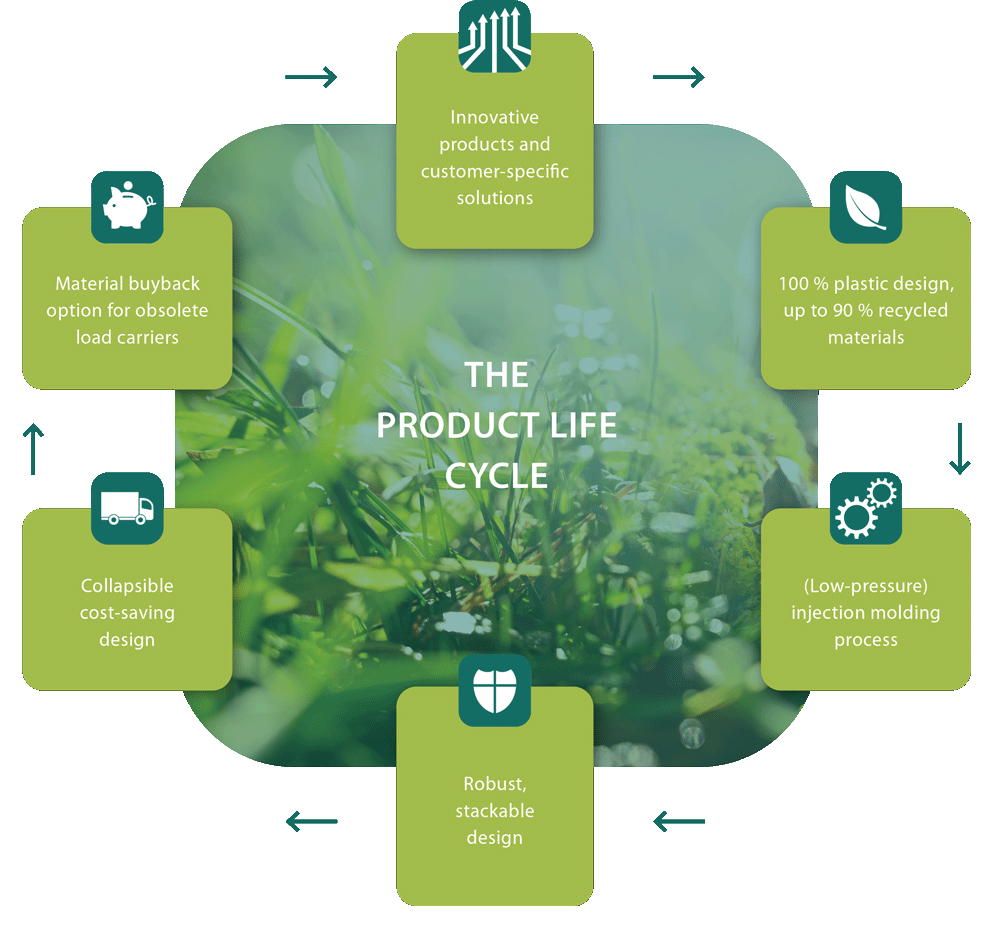 About ORBIS
ORBIS engineers and manufactures durable and sustainable transport packaging solutions. With more than 65 years of plastics innovations, ORBIS helps world-class customers move their product faster, safer and more cost-effectively with reusable totes, pallets, containers, dunnage and racks. Using a proven approach, ORBIS experts analyze customers' systems, design a solution and execute a reusable packaging program for longer-term cost savings and sustainability. ORBIS Europe manufactures foldable large containers (FLCs) and pallets from recyclable and recycled plastics. ORBIS Corporation is headquartered in Oconomowoc, Wisconsin (USA), and has more than 3.100 employees and 50 locations throughout North America, Mexico and Europe. Since 2016, ORBIS Europe represents its parent company in the EMEA region with an office in Hürth, near Cologne.
More articles in our news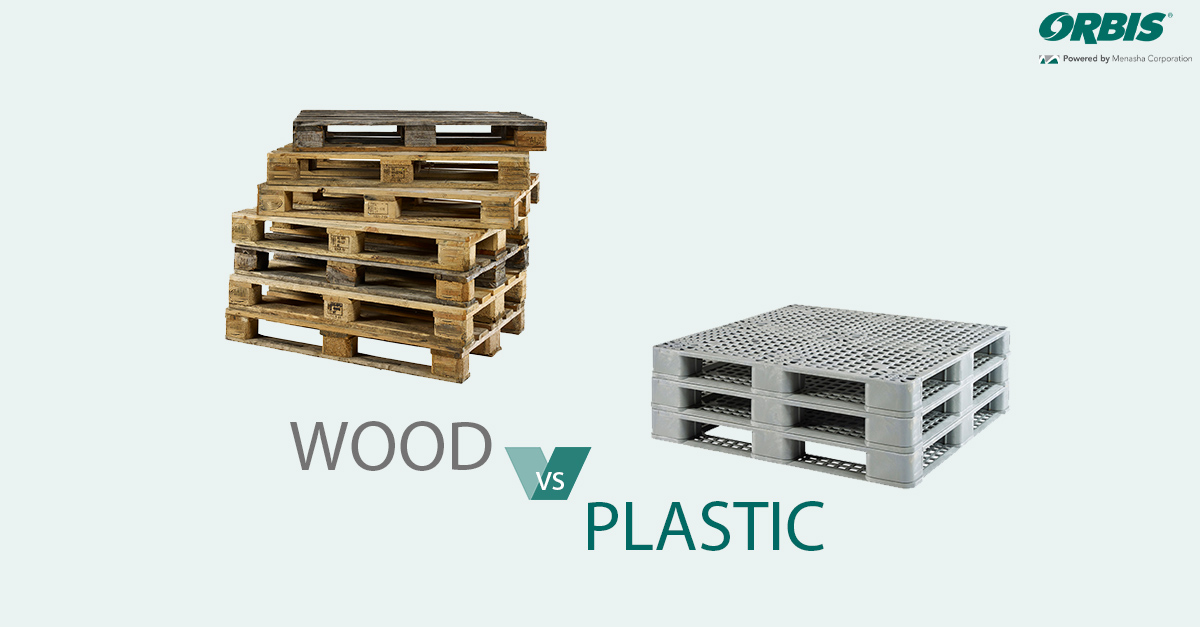 Wood vs. Plastic
Pallets are an essential part of supply chains across almost all industries. When transporting goods on pallets, companies have the choice between two main materials: wood and plastic. While wood pallets have been the go-to-choice for long, plastic pallets have emerged as a popular alternative in recent years. Let's take a closer look at the main differences between wood pallets and plastic pallets.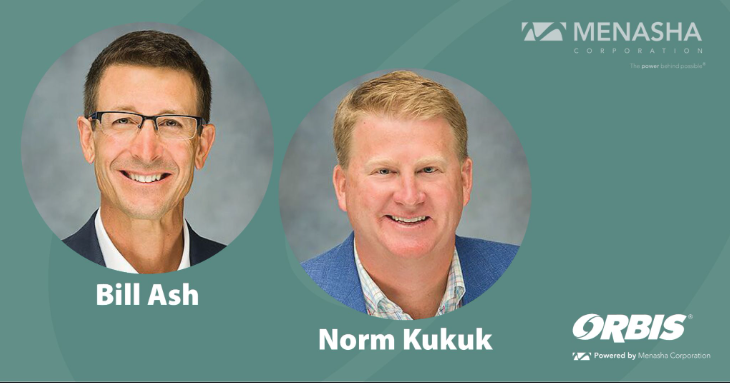 Leadership Changes at ORBIS
ORBIS and Menasha Announce Leadership Changes: ORBIS® Corporation has announced the upcoming retirement of current President Bill Ash and the appointment of Norm Kukuk to succeed him as president of ORBIS. ORBIS' mother company Menasha Corporation announced that James M. Kotek will retire from his position as President and Chief Executive Officer in March. The Menasha Corporation Board of Directors has appointed Christopher D. Drees to succeed Kotek effective March 13, 2023. Drees will also join the Menasha Corporation Board.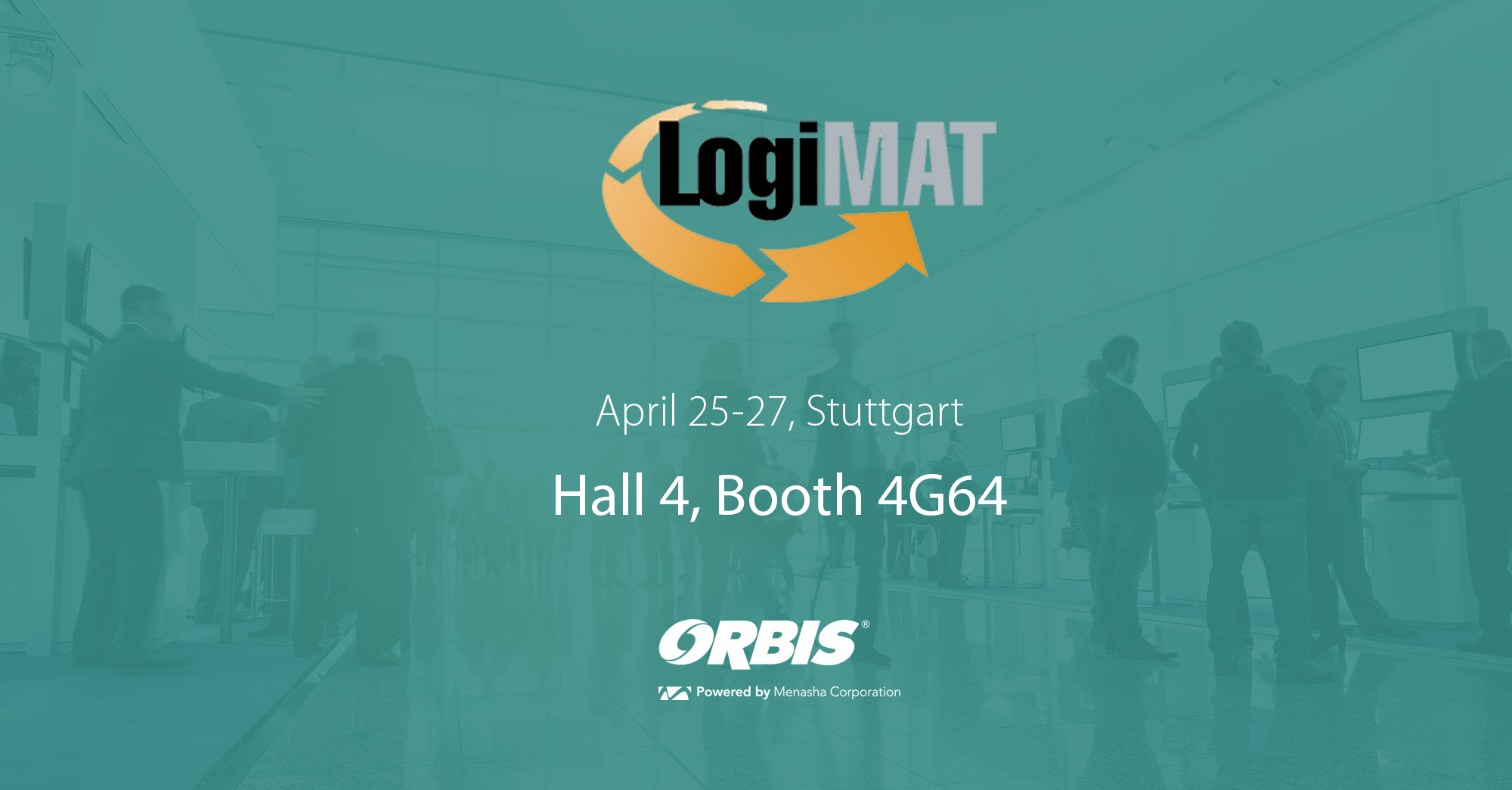 ORBIS Europe at LogiMat 2023
The ORBIS Europe team is attending LogiMAT 2023 (April 25th-27th in Stuttgart), the International Trade Fair for Intralogistics Solutions and Process Management. At booth 4G64, hall 4, we are exhibiting sustainable and durable plastic packaging solutions for various industries. That includes Fast Moving Consumer Goods (FMGC), Food & Beverage, Industrial Manufacturing, Automotive and Dangerous Goods. Want to be part of LogiMAT? Secure your code for free sign up.