29 May

Industrial Pallets
Industrial Plastic Pallets 1200×1000
ORBIS Europe Industrial Pallets are extremely durable and robust – the high-quality plastic pallets are made using a gas-injection manufacturing process to create internal cavities in the pallets' support system for improved durability and resilience. Industrial pallets have a 1200 x 1000 footprint, making them especially suitable for applications in industrial manufacturing. The Industrial pallet is also available as Hygienic pallet with increased hygienic properties and FDA-compliant materials that lower the risk of contamination. Thanks to its reusability and recyclability, the industrial pallet is a sustainable and efficient alternative to wooden pallets while improving workplace safety and reducing logistics as well as disposal costs. Optional slide protection on the top deck, bottom deck, or bottom support available.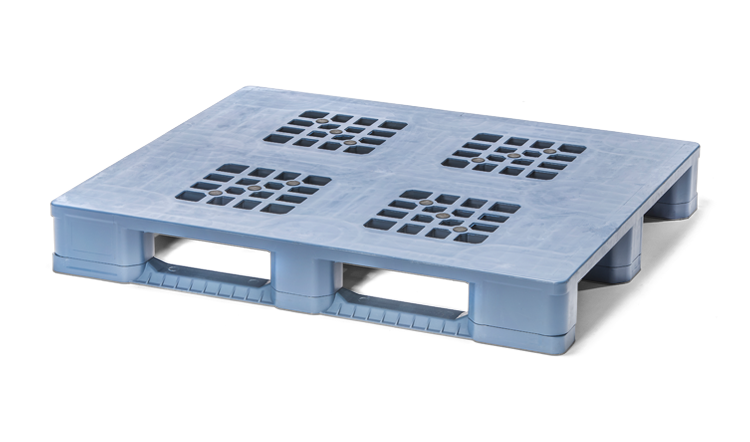 The plastic pallet with industry standard footprint is ideal for applications with high rotations. An innovative durable design makes the Auto pallet resistant to impacts and extremely robust. Thanks to internal hollow channels the plastic pallet is rigid for racking applications and offers a long service life.
Industrial Plastic Pallet 1200×1000 for Automotive Applications
Patented snap-fit design
Available in FDA-compliant material
Designed to convey beverage products, aluminum and steel cans, glass and plastic bottles and other rigid packages on many palletizer and conveyor systems
Recessed area for bar coding
Multi-trip plastic pallet
Tapered 4-way entry
| | |
| --- | --- |
| Dimensions: | 1200 x 1000 x 160 |
| Weight: | 20-23 kg |
| Load Capacity, static: | 5000 kg |
| Load Capacity, dynamic: | 2500 kg |
| Load Capacity, racking: | 1250 kg |
| Bottom Configuration: | 3 / 5 / 6 Runner |
| Deck Options: | Open / Closed Deck |
Hygienic Industrial Plastic Pallets 1200×1000
Hygienic pallets with industrial 1200 x 100 footprint can be used in multiple different industries. Especially in food industries hygienic requirements are very high. ORBIS Europe Hygienic pallets fulfill the highest standards while offering a high mechanical performance. Rounded runners and edges improve ergonomics and handling and optimize automated processes.
Industrial Plastic Pallet in Hygienic version
Reduced risk of product contamination
Available in FDA-compliant material
Smooth surface
Non-porous
Easy to clean
Stackable
Available in fire-retardant materials
| | |
| --- | --- |
| Dimensions: | 1200 x 1000 x 160 |
| Weight: | 22-23 kg |
| Load Capacity, static: | 5000 kg |
| Load Capacity, dynamic: | 2500 kg |
| Load Capacity, racking: | 1250 kg |
| Bottom Configuration: | 3 / 5 Runner |
| Deck Options: | Open / Closed Deck |